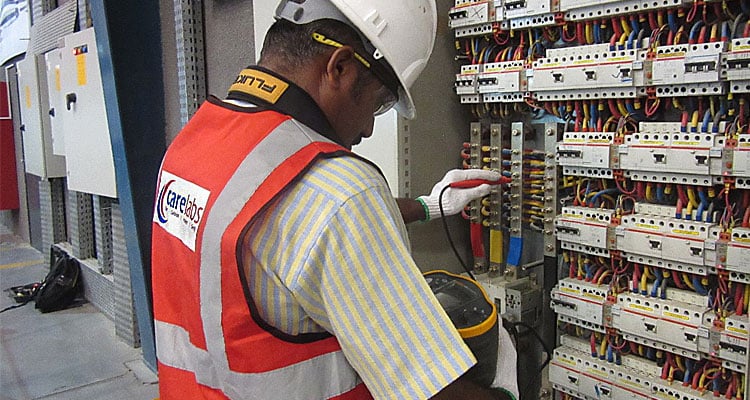 Carelabs is authorized provider of Electrical Installation's Study, Analysis, Inspection, and Certification services in UAE, and offer commercial electrical testing service.
Commercial electrical testing helps to keep your business safe and compliant. Faulty electrical systems or appliances can cause risks of electric shock and burns, fire, and explosion.
There is a legal responsibility on both employers and their employees to prevent danger by ensuring that electrical systems and appliances within the workplace are safe, suitable for use and maintained suitably appropriately. Part of this involves the inspection and testing of the electrical systems by a competent person, as well as keeping suitable records up to date.
Inspection and testing check condition of electrical installations and equipment on your premises. Assessing the risk is crucial to maintaining safe working conditions, and this will partly be covered by a company's health and safety assessment. But some commercial electrical testing should carry out by a competent person who can give a legally recognised electrical test report. This will help show due diligence and compliance with legal requirements.
Our team of experienced and fully qualified electricians offers a comprehensive testing and inspection service to give you peace of mind that every electrical element in your business is working safely and efficiently. During an electrical test of commercial property, the power may need to turn off.  We are flexible and can carry out the testing when it is most convenient for your business.
Our engineers will check the electrical installation against the requirements of BS 7671 – Requirements for Electrical Installations ( IEE Wiring Regulations ) – as amended, which is the national safety standard for electrical installations.
The Importance of Commercial Electrical Testing and Inspections
As an owner, you put so much of your energy and resources into your company's products, services, infrastructure and property. With all this personal and financial investment, the last thing you want is to lose any of your commercial assets due to an unexpected electrical fire. That's why having your business property appropriately tested and inspected for electrical issues is one of the most important steps you can take toward protecting your investments.
Beyond simply making sure that all of your outlets and lighting fixtures are functional and efficient, an expert electrical inspection will include efforts to make sure electric appliances and systems have been properly installed and are in good working order. The wiring of the building is generally inspected for any potential weather damage or exposure to pests (like rodents, who might chew on the wires). Likewise, thorough testing of electrical equipment makes sure that all necessary business equipment functions properly and does not short-circuit or create any unnecessary strain on the system.
Electrical testing and inspection aren't necessarily "one-and-done" process. To make sure the on-going safety and functioning of the electrical systems in place on your commercial property, it's important to have inspection and testing performed on a fairly regular basis.
Although it can tempt to save yourself money and time by skipping periodic electrical testing and inspection, the risk of fire damage to your building, equipment and–most importantly–your employees is far too great to ignore. The injury or death of an employee, client or patron in an electrical fire can not only lead to serious legal trouble for your business but also leave you dealing with grief and guilt. Be sure to cover all your bases and keep your employees, customers and belongings safe from harm. Rest assured that your efforts will pay for themselves in peace of mind.
Benefits From Commercial Electrical Inspection
Electrical installations are an essential part of any property or building. When everything in your business is working just fine, it might seem that hiring an electrical inspector is not worth the investment. However, there are plenty of benefits that your business stands to enjoy from having regular inspections. The benefits include;
Decreased Fire Hazard
Are you aware that electrical fires are the leading cause of fires in businesses in the nation? This is a fact and electrical inspection is one of the easiest ways you can protect your business from potential losses. A professional inspector will check your wiring for any problems that could cause fire and then fixes them. They will also recommend you on other ways that you can protect your business from fire such as suggesting improving your insulation.
Operation Efficiency is Improved
An electrical inspector will not only inspect for faults in the wiring but he will also test for problems that are plaguing your electrical appliances. This could decrease the efficiency of your electrical appliances. Did you know old wiring usually has a tendency to carry out sporadically? Having routine inspections can pinpoint where the problem is and the expert can fix it. By doing this you will decrease your electricity bill and enjoy higher profit margins.
Avoid Appliance Malfunctioning
A professional inspector will not only focus on your home's wiring but he will also check your appliances. They will check for frays that could lead to malfunctions in the near future. You do not have to write off your malfunctioning appliances; sometimes the problem is as simple as a frayed or misplaced wire. This way you do not have to replace the appliance and you end up investing the money elsewhere.
Apart from the above benefits, there are plenty other benefits that your business can enjoy. Such as avoiding penalties for not meeting the electrical standards. An inspector will make sure you meet all necessary standards.
Commercial Electrical Inspection and Testing Service
Tests applied, to make sure the safety of electrical installation is as follows:
Continuity – to make sure that the earthing is continuous throughout the circuit.
Bonding Conductors Continuity – to make sure bonding is in place and effective.
Ring Circuit Continuity – make sure the ring is complete.
Insulation Resistance – to test whether there has been any breakdown in insulation to the installation.
Polarity – to check that the installation is correctly wired.
Earth Fault Loop Impedance – to make sure the Zs of the installation.
Earth Electrode Resistance – applies to TT systems only, to test the earthing rods.
RCD testing – to check that Residual Current Device disconnects the supply event of a fault.
Functional testing of isolators and breakers to make sure that they disconnect the supply.
A detailed Periodic Inspection Report supplied after completing electrical testing containing the following certification:
Guidance Notes for recipients.
Schedule of Inspection and Schedule of Test Results.
We give an Electrical Installation Condition Report or Periodic Inspection Report as part of the inspection.