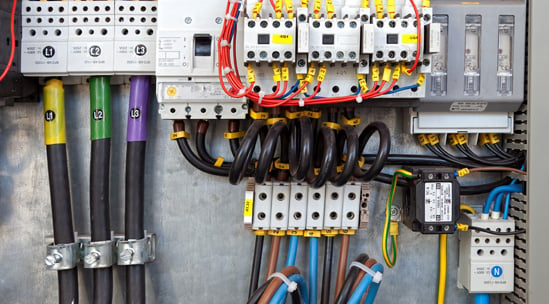 Carelabs is authorized provider of Electrical Installation's Study, Analysis, Inspection, and Certification services in UAE, and offer electrical installations certification services.
Electrical installation certificate is something you should have every time some work done which includes extending a circuit or new surface or even a few orders. What is the benefit of getting an installation certificate? It ensures that the work just completed is compliant and secure and assures that it is safe to use.
Whether you are a manufacturer or operator, you need to ensure cost-effective and safe use of your electrical installations and power plants.
Electrical Installation Certificates (EICs) and Minor Electrical Installation Works Certificates (MEIWCs) provide you, as the person responsible for the safety of an electrical installation, with a declaration that the new installation, or alteration or addition, is safe to use at the time it was put into service.
Keeping hold of these certificates also provides a basis for any further inspection and testing, as they can help save on costly exploratory work which might otherwise be needed in future. Additionally, in the event of a claim that injury or fire was caused by an electrical installation, certificates are documentary evidence which help show that the installation had been installed to a satisfactory standard of safety.
The Electrical Installations Certificate will indicate whether the electrical work that has been carried out is:
New – where the whole installation has been installed as new, if a complete rewire has been carried out.
Addition – applies if an existing installation has been modified by adding one or more new circuits.
Alteration – applies where one or more existing circuits have been modified or extended (for example to add a socket), or items such as a consumer unit (fuse box) and switching equipment have been replaced.
An Electrical Installation Certificate must be issued for all new electrical installations. It may also be required for an alteration or addition to the installation – depending upon whether or not a new circuit has been installed. Where an alteration or addition is carried out but does not include a new circuit, a MEIWC or an EIC may be used.
The Electrical Installation Certificate will need to be issued any time that there is:
A newly installed installation
When any new single circuit or multiple circuits are being added to any installation that already exists.
When there is any change of distribution board (consumer unit)
When there has been any alteration to a circuit and that alteration has required a change to the protective device.
Following initial verification, and after a full inspection and testing procedures have been undertaken, the Electrical Installation Certificate has to be completed. This is something that is required by law.
Carelabs Electrical Installation Certification Process
Every time an Electrical Contractor completes a new electrical installation, extension, or modification to an existing installation he/she is obliged to test and certify that the installation complies with current standards. These standards are set by the Electro Technical Council of Ireland (ETCI). A validated Electrical Completion Certificate, where applicable, must be sent to ESB Networks by the electrical contractor's regulatory body before any connection work can commence. Every customer should receive a copy of an Electrical Completion Certificate whenever electrical work is completed. Make sure you keep your copy of the certificate. This requirement helps to ensure your safety.
In order to verify that it complies with the relevant requirements of the standard. With self-certification, there is an absolute requirement for full inspection and testing procedures. This chapter explains the minimum verification procedures that are required by Health and Safety legislation and BS 7671. The Wiring Regulations require that every installation must be inspected and tested, both during erection and before being put into service. The persons signing certification take responsibility for all work, hidden and obvious. A signatory on an Electrical installation certificate (EIC) can only be responsible for work for which there is a contractual arrangement. Inspection and testing may be carried out by a specialized operator, or the installer, or perhaps the design consultant.
Who can apply for Electrical Installation Certification?
Property owners, electrical contractors and licensed wiremen can apply to have their electrical work inspected and certified.
Carelabs Provide Certificates after testing for faults like:
If any of your electrical circuits or equipment are overloaded.
If any potential electric shock risks and fire hazards are present
If any defective electrical work is present
If any lack of earthing or bonding is present
Tests are also carried out on wiring and fixed electrical equipment to check that they are safe. A schedule of circuits is also provided, which is invaluable for a property
The suitability of the switchgear and controlgear. For example, an old fusebox with a wooden back, cast-iron switches, or a mixture of both will need replacing
The serviceability of switches, sockets and lighting fittings. Items that may need replacing include: older round-pin sockets, round light switches, cables with fabric coating hanging from ceiling roses to light fittings, black switches and sockets mounted in skirting boards
The type of wiring system and its condition. For example, cables coated in black rubber were phased out in the 1960s. Likewise cables coated in lead or fabric is even older and may well need replacing (modern cables use longer-lasting pvc insulation)
Making sure you have a fusebox with a suitable residual current device (RCD)
The presence of adequate identification and notices
The extent of any wear and tear, damage or other deterioration
Any changes in the use of the premises that have led to, or may lead to, unsafe conditions
If any dangerous or potentially dangerous condition or conditions are found, the overall condition of the electrical installation will be declared to be 'unsatisfactory', meaning that remedial action is required without delay to remove the risks to people, and damage to equipment in the premises.
Minor Electrical Installation Work Certificate
The Minor Works Certificate is intended to be used for additions and alterations to an installation that do not extend to the provision of a new circuit. Examples include the addition of a socket-outlet or lighting point to an existing circuit, the relocation/replacement of a light switch etc. This Certificate may also be used for the replacement of equipment such as accessories or luminaries, but not for the replacement of distribution boards or similar items. Appropriate inspection and testing, however, should always be carried out irrespective of the extent of the work undertaken.
Carelabs Electrical installations certificate will have the following list of regulations printed:
The Electrical Installation Certificate will be used only for the initial certification of a new installation or for an alteration or addition to an existing installation where new circuits have been introduced. It is not to be used for a Periodic Inspection for which a Periodic Inspection Report form should be used. For an alteration or addition which does not extend to the introduction of new circuits, a Minor Electrical Installation Works Certificate may be used. The original Certificate is to be given to the person ordering the work (Regulation 742-01-03). A duplicate should be retained by the contractor.
This certificate is only valid if accompanied by the Schedule of Inspections and the Schedule(s) of Test Results.
The signatures appended are those of the persons authorized byx the companies executing the work of design, construction and inspection and testing respectively. A signatory authorized to certify more than one category of work should sign in each of the appropriate places.
The time interval recommended before the first periodic inspection must be inserted.
The page numbers for each of the Schedules of Test Results will be indicated, together with the total number of sheets involved.
For the proposed date for the next inspection, it should be taken into consideration the frequency and quality of maintenance that the installation can reasonably be expected to receive during its intended life, and the period should be agreed between the designer, installer and other relevant parties.