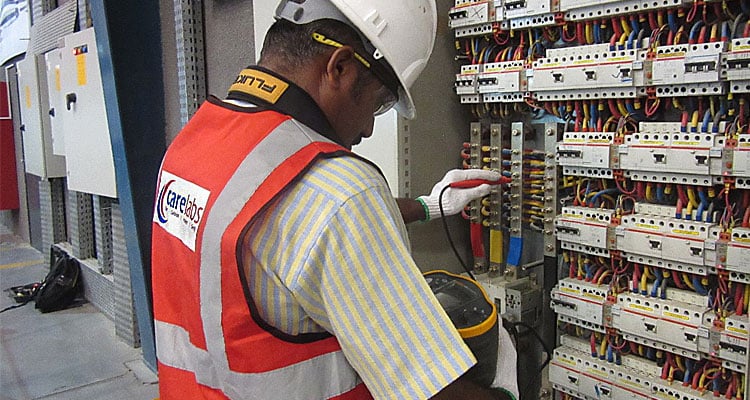 Carelabs is authorized provider of Electrical Installation's Study, Analysis, Inspection, and Certification services in UAE, and offer electrical safety audit service in UAE.
Electrical Safety is an on-going conversation. In process industries, fires due to electrical reasons are very probable, especially in industries that handle flammable chemicals. In service industries such as information technology, telecommunications, banking and other commercial establishments, business interruption losses could be due to electrical hazards.
Trained professionals will examine your arc flash study, training programs, documentation, and PPE to ensure your electrical safety program is up to date, compliant, and comprehensive. Document safety measures for OSHA audits and compliance comply with the latest NFPA 70E standard.
Benefits Of Electrical Safety Audit
Compliance with regulations

Increased levels of safety

More efficient use of resources

Clarification of electrical safety responsibilities

Electrical equipment is required to be maintained so as to avoid danger and to allow the continued use of equipment in service

Identification and elimination of safety hazards

Ensuring longevity of expensive electronic equipment like computers and other machines

Development of a dynamic record of safety performance

Creation of positive cycle of safety improvement

Ensuring compliance with Regulatory and industry safety related best practices
Why Electrical Safety Audits (ESA) Necessary?
Identifying potential electrical hazards to prevent or minimize loss of life and property is perceived seriously by many industries the world over. General safety auditing is popular where the objectives & concepts are clear whereas ESA is a specialized area that is still in the process of being understood by many. In factories, around 8% of all fatalities are due to accidents caused by electricity. Data compiled by international organizations like National Fire Protection Association (NFPA), indicate that nearly one fourth of all fires are caused by electrical appliances or installations. Major fire incidents in various types of occupancies over a number of years show that nearly 40% of the fires are initiated by electrical causes such as short circuits, overloading, loose electrical connections.
Although electrical hazards will be identified and assessed in general safety audits, comprehensive electrical safety audits can provide a thorough review of the electrical system. This could identify potential electrical hazards, flaws in design system, maintenance system, etc.
Electrical Safety Audit Service can be broadly classified into 3 major areas namely:
Pre-Audit

Audit

Post-Audit
Pre-Safety Electrical Audit
An effective ESA programme should include elements such as competent audit team formation, pre_audit briefing, collection & review of relevant information (preventive maintenance documentation, accident reports, electrical inspector's reports, history cards), discussion with safety & electrical officers, plant visit and then the consolidation to the top management.
Defining scope of Electrical Safety audit based on the specific requirement is the first step in the process of Electrical Safety auditing. Typical ESA scope of work could include:
Physical inspection of the area with reference to standards and other relevant codes of Practice &identifying electrical hazards (shocks, fires, etc.).

Reviewing the role of electrical safety in the total safety system.

Review of protection devices / system of the electrical installation.

Review of adequacy of cables, motors, etc. based on actual load current measurements and cable current carrying capacities.

Review of electrical accidents to identify root cause of the accidents.

Review the EPM (Electrical Preventive Maintenance) programme in the plant and to examine the documentation, checklists, work permit, test records, etc. and to suggest recommendations as per applicable standards.

To identify training needs of the plant employees from the point of view of electrical safety.

To evaluate the earthling system (installation and maintenance) in the plant based on IS 3043 and to suggest recommendations.

Review of the following test records, evaluating the test results and to suggest recommendations as per applicable standards.

Transformer oil test.

Insulation Resistance Tests.

Earth Resistance tests.(The checking of test procedures and checking of test result interpretations are also part of this exercise).

To evaluate the potential electrical fire hazards in the plant electrical installation and to suggest fire protection measures as per applicable standards and Indian Electricity Rules.

To identify the ESD (Electro-Static Hazards in the plant and to suggest recommendations as per applicable standards
The pre-audit questionnaire for ESA could include the following aspects:
Process details

Electrical Single Line Diagram

Name plate details of major electrical equipment

Details of classified zones in the plant

Details of flammable chemicals handled in the plant

Details of electrical accidents in the plant

Details of addition / expansion of the plant including electrical installation

Overview of electrical maintenance system
Audit  Preperation / Reference:
The questionnaire is a vital tool for successful inspection and time spent onits preparation is as valuable as that taken by the audit itself. Auditing experience will reveal the need for supplementing or modifying it, provided that the auditors adopt a flexible approach to their task, and the danger of confining attention only to those matters listed in the original questionnaire must be avoided. Checklists can be made with reference to:
Statutory Regulations

Non-Statutory Standards (national and international)
To understand the efficiancy of the various electrical safety elements, the grouping as indicated below will be of use. This way of grouping enables the consolidation exercise more effective.
Compliance to Statutory Rules

Applicability of rules (International & Local codes, Petroleum Rules, etc.)

Compliance to inspector's reports

Submission of accident intimation reports, forms, etc. in time

Intimation of inspector before energizing new / changed electrical installation
Electrical Shock/ Flash / Injury Hazards
RCCBs –selection, installation and maintenance

Aspect of Nuisance Tripping and bypassing of RCCBs

Bypasses fuses, MCB (Miniature Circuit Breaker), etc.

Use of rewirable fuses

Earthing defects

Use of double insulated (class II) tools, centre tapped power supply, extra-lowvoltage equipment for confined spaces

Accessible live parts

Electrical rubber mat

Wrong identification of equipment / feeders

Defective electrical portable tools

Are the necessary PPEs (Personal Protective Equipments) used?

Interlocks provided for multiple power sources?

Adequacy of illumination in electrical rooms/around panels, DBs, etc.
Electrical Fire Hazards
Storage of combustible materials near electrical equipment / fuse units

RCCBs

Earthing defects

Use of non-standard fuse wires

Bypassing of protection devices

Deteriorated insulation

Selection, deployment of PFEs ( (Portable Fire Extinguishers)

Unused openings in live panels, etc.

Possibility of ground fault / short circuit

Loose terminations due to improper supports, crimping

Improper gland installation, wrong lug size

Over-rated fuses, wrongly set protection relays, etc.
Electrical Safety Training
Need for electrical safety training

Training content identification

Periodicity

Competency of faculty members

Objective of training
Earthing System
Installation as per approved design?

Installation and Maintenance as per IS 3043?

Earth resistance measured periodically?

Test procedure

Acceptable earth resistance values

Is the earthing system modified when electrical installation is modified?

Are neutral earth pits independent and separate?

Are earth pits identified?

Are two and distinct earth connections provided?

Is the earth continuity tested?

Is bonding and earthing carried out to avoid ESD hazards?
Electrical Preventive Maintenance
Is there an EPM program in place?

Is the program implemented? What is the slippage?

Are the relevant standards (statutes and non-statutory) referred and incorporated in the EPM programme?

Electrical Tests, Records, Test Procedure and periodicity (earth resistance, insulation resistance tests)

Is the EPM program only documented?

Transformer tests (dielectric strength, acidity, sludge deposits, dissolved gases, etc.) and periodicity

Periodic calibration of meters (ammeter, voltmeter, relays, temperature gauges) and test instruments (insulation resistance megger, earth resistance megger, multi-meters, etc.)
Electrical Protection System
Are the protection relays in place and set in the main PCC / MCC?

Are the relays set in accordance with calculated, design parameters in mind?

Are they calibrated and tested periodically?

Availability of HRC fuses, standard fuse wires, MCBs, MCCBs, RCCBs, etc.

Are the transformer protection devices in place? (Bucholtz Relay, Oil Temperature Relay, Winding Temperature relay, Silica Gel Breather, Explosion Vent, etc.
Electrical Safety Auditing
The field /plant visit is the most important part of the ESA program. This involves visiting the plant to identify electrical hazards as per the scope of the audit. In electrical safety audits, the incoming electrical supply receiving section (outdoor substation and main transformer) is inspected first. Then the main sub-station housing the PCCs or MCCs and the cable gallery (if present) is inspected. Next are the electrical equipment installed in various process sections, the cabling and the distribution transformers located in the plant are visited.
The aspects such as earthing, lightning protection,maintenance condition,loose cabling, temporary wiring, electrical firehazards, shock potential, etc. are critically lookedinto. The checklist provided in the 'Pre-audit Preparation' section is rather a comprehensiveattempt, covering almost all-electrical safety aspect
Review of Documentation / Records
Normally, this part is taken up after the field visits. All the relevant maintenance documentation, test records, electrical records, electrical inspector reports, OEM (Original Equipment Manufacturer) service manuals, History cards are subjected to detailed examination. All the relevant drawings (electrical single line diagram, earthing layout, hazardous are a classification drawings, protection system schematic, equipment layout,lightning protection drawings) are also checked against actual installation and commended upon, with reference to applicable standards
Post Electrical Safety Audit
Management Abstract
The management abstract as the name implies contains the salient observations noted during the audit and the recommendations in a nutshell. Management needs  to understand those hazards that are harmful to their employees and to the property. Any prudent management will consider seriously potential hazards that can affect their business (directly as well as indirectly) and will take immediate action. Considering the importance of this section, every care has to be taken in choosing appropriate words and to effectively convey the message, depending upon the criticality of the hazard.
Introduction
This section generally contains the ESA scope of work, exclusions in the audit scope, assistance provided during the audit, details of the audit team, client's officials contacted during the audit, audit methodology, audit duration. and summary of the client's safety system, safety auditing policy, training strategy, Accident Prevention Program, and the management commitment towards safety.
Overview of Electrical System
The overview section contains the details of the electrical power supply and the power distribution. This section can also discuss the details of critical electrical installations, name plate details of critical electrical equipment, recent alterations/additions carried in the electrical installation, captive generation details, etc. This section can also discuss about the future expansion plans with respect to electrical capacity.
Specific Observations and Recommendations
This is the most important section containing the specific observations and recommendations in the plant observed during the audit. Normally, the observations are noted area/plant wise. Checklist method is found effective and various standards (both statutes and non-statutes) are available for reference. The format for this section is given in this paper.
Lightning Protection System Evaluation
The review of the existing lightning protection system of the plant as per the applicable national (IS: 2309) and international standards (NFPA 780) is carried out in this section on a sample basis. The various maintenance aspects are also evaluated in this section. If required, the fundamental step of ascertaining the need for protecting buildings /structures by calculating the risk factor is also carried out.
Electro-Static Hazards- Control Measures
ESD (Electro-Static Discharges) is a critical area where the potential ESD hazards are to be identified and necessary solutions are to be provided. Making the client aware of the potential accidents that can occur due to Electro-static discharges, minimum ignition energy required for fire/explosion, concept of equi-potential bonding and earthing, etc. are also crucial to make them understand the ESD hazards in the right light.
Hazardous Areas – Observations and Recommendations
This is another crucial area that needs to be evaluated critically. Although hazardous areas are critical, they are mostly neglected in most of the hazardous plants. The design principle of flameproof equipment makes it a special equipment that needs 'special care'. Area classification into zones and installing various types of electrical equipment are the critical factors in controlling accidents in hazardous areas.
Safety audits are an important part of a company's control system. The auditing schemes does not remove from the management and supervisors the necessity for regular checking and rechecking to ensure that people under their control are working in a safe manner. Their application and use do not remove the need for proper care and responsibility at all levels in day-to-day operations.