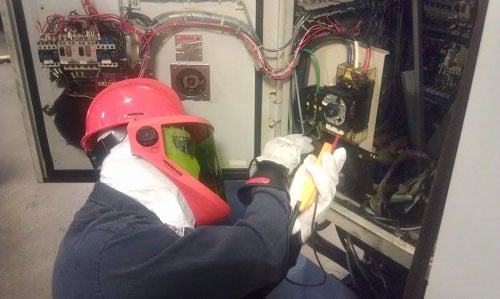 Switchgear is an arrangement of electrical cut-off switches, fuses or circuit breakers used to regulate, guard and detach electrical gear. Switchgears are utilized both to de-energize equipment to permit work to be performed and to clear errors downstream. This type of equipment is directly linked to the reliability of the electricity supply.
Why Switchgear Testing is Done?
Because of component failures short circuits can cause product breakdown, danger to human life resulting in damage to company reputation. In Switchgear and electrical wiring fittings testing is compulsory to make sure product safety and agreement with international regulations/ standards. Regular inspection and testing of switchgear is critical in electrical asset management. It can prolong equipment life and prevent unscheduled outages, and safety. It can also improve reliability, reduce maintenance costs and increase predictability.
Testing assists in spotting the faults that may be inbuilt in particular equipment. Hence it enables the user to take a decision whether to use or not to use the equipment under known circumstances. The aim of electrical testing on key equipment is mostly to make sure that the gear will work as required, when it is installed and energized within its specified voltage and load conditions. This is basically like an insurance premium to be spent before the equipment is accepted in a particular installation. One other aim is to build a set of base line test results of the equipment that can be compared in future to detect wear and tear and therefore for taking remedial actions.
What is Done During Switchgear Testing?
Carelabs offers safety testing services for a wide range of switchgear products. Our reports are highly renowned in UAE. Our services include electrical test (High voltage, insulation resistance, short-circuit), temperature-rise test, mechanical strength test, endurance test, environmental test (Ageing, humidity, glow-wire)
We perform tests on these products: -voltage switchboards / tap-off boards, busbar trunking systems, distribution boards / consumer units, isolating switches / disconnectors, low-voltage fuses, circuit breakers – MCB / RCCB / RCBO, steel surface cable, trunking, fire alarm panels etc.
How is Switchgear Testing Performed?
Following tests are performed:
Visual inspection and Mechanical inspection

Inspect switchgear and all components for any physical damage / defects.
Check nameplate information for correctness.
Inspect enclosures for proper alignment, foundation fixing, and grounding and vermin entry.
Inspect all covers, panels' section and doors for paintwork and proper fit.
Examine all the transport locks are detached.
Examine for effortless and correct movement of rails and guides, racking systems, shutter, rollers,.
Check proper alignment of the primary and secondary contacts.
Check operation of all mechanical interlocks.
Check tightness of all bolted connections.
Check for correct phasing connection of bus bar.
Perform mechanical check and visual inspection for breaker / Contractor as per section.
Perform mechanical check and visual inspection for instrument transformers as per section.
Perform mechanical check and visual inspection on all disconnect / grounding switches as per section.
Insulation Resistance Test
The insulation resistance test is a DC evaluation test of the insulation and gives a reliable indication of the presence of moisture, contamination or breakdown in the insulation. This test also establishes a benchmark for future comparative tests.
It includes panel enclosure, busbar, CT and circuit breaker. The following precautions should be taken care, before starting the testing.
A visual inspection will be made to ensure the surface dust and moisture has been removed from the component under test.
Make sure the section is isolated from other joined system, which may feedback to other sections or circuits which aren't under test.
On testing, voltage shall be applied between one phase and other phases connected with ground, testing shall be repeated for other phases as mentioned above.
Test voltage limits mentioned in table below:
Rated voltage

 

Test Voltage

 

100-1000V AC/DC

 

1000V DC

 

>1000 to <5000V AC

 

2500V DC

 

> 5000V AC

 

5000V DC

 
Contact Resistance Test
If contacts are not looked after periodically resistance develops due to frequent arcing, which in turn decreases the contacts capability to carry current. This test indicates the quality of mating of the contact surfaces and pivot points. Contact resistance should be maintained as low as possible to reduce localized heating and power losses.
This test is to confirm the busbar joints are connected properly and verify the tightness.
The test shall be done with CBs inserted and closed.
Calculate the contact dc resistance among panels by inserting 100Ampere DC. This will involve busbar joint, CB contact resistance, CB cluster resistance, and CT primary resistance (if applicable).
The obtained results should be similar for all phases for each set of measurement.
Length of the measured track, rating of the busbar, CB and CT and temperature are other influencing factors to be considered.
High Voltage Test

To determine the equipment is in proper condition to put in service, after installation for which it was designed and to give some basis for predicting whether or not that a healthy condition will remain or if deterioration is underway which can result in abnormally short life.
For the testing earthed circuit, the connection to the earth, shall be removed prior to the test.
Furthermore, when electronic equipment for control or signal and electronic instrument or DC control equipment are included in the control circuit, they shall be disconnected or removed during the test.
Benefits of Switchgear Testing
Reduce your business risks by meeting regulatory requirements and standards.
Increase quality and safety of your products and processes.
Save time and costs.
Increase customer confidence in your product through independent testing.
Shorten your time-to-market and increase market access by partnering with an expert in regulatory requirements and standards.
Our team is highly experienced and qualified, which adds value to your processes.