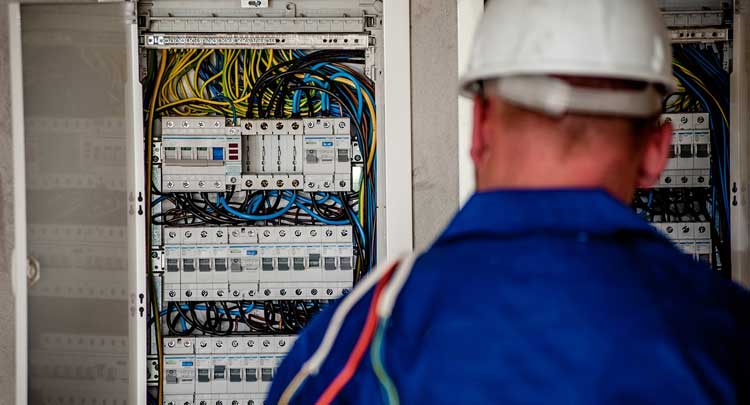 Carelabs Provide Following Inspection and Certification Services Needed to Obtain OFC
Based on the Typical EHS Checklist for Operational Inspections following are the points that need to be fulfilled to obtain OFC.
Defective electrical equipment/cables/apparatus etc shall be rectified prior to use. Warning tag system shall be in place until the equipment is rectified & ready for use.
Earthing where necessary for any electrical equipment shall be done prior to undertake any work/repair/maintenance.
The isolators for machines should be identified with engraved label to indicate circuit number/source of supply.
The live electrical parts in the control panel should be shrouded.
The machines should have an individual MCB and ELCB (100 Ma) protection.
The paint storage or a production area with flammable gas shall be provided with electrical equipment of appropriate Ex category.
The power factor correction capacitors should be provided, p.f. should be maintained at 0.9 (lag).
The wiring for machines should be preferably carried out using armoured cable or single core wires in GI conduit/ trunking.
Other services that might be required to fulfil certain criteria
Electrical Audit for Risk assessment
Third Party Inspection, Testing, & Certification for Electrical Installation
Visual & Thermography Inspection
Electrical Safety Test
Building Envelope Thermography Inspection
Thermography Testing
Electrical Switchgear Testing & Certification
Commercial Electrical Inspection
Biomedical Equipment Safety Inspection
Protective Devices Testing – Primary & Secondary Injection Test
Short Circuit Analysis
Relay Co-ordination Study
Load Flow Analysis
Power Quality Study
Harmonic Analysis
Energy Auditing
Arc Flash Hazard Assessment
Arc Flash Study & Analysis
Portable Appliance Test
Electrical Safety Test of Biomedical Equipment's
Earth Bonding & Grounding Tests
Protection down conductors and Air-terminals
Servicing of Circuit Breaker
Load Test for Generator, UPS
Tripping Test and Calibration of Circuit Breakers
Emergency Light Maintenance
Battery Test & Maintenance
All Electrical Testing Services
You can enquire on any other activities that you need by emailing us on [email protected]
Purpose of OFC
The Process of Operation Fitness Certification (OFC) ensures that each company operating from any facility located/built on plot land/pre-built units within the jurisdiction areas of Jebel Ali Free Zone & Techno Park complies with all the requirements set forth by Environment, Health & Safety (EHS). OFC Inspection Request form shall require to be submitted prior to the start of any operations/activities carried out in a particular facility or pre-built unit/s (specifying the date of commencement of operations in the application form) not later than 7 days from the start of operation/s. 
Applicable Regulations
Environmental Regulations & Environmental Guidelines
Occupational Safety Regulations
Construction Safety Regulations
EHS Design Development Regulations
Green Building Regulations
CED Building Regulations
FZ/DM Rules (Wherever applicable)
Operations and Activities that Require to Obtain OFC
All kinds of Manufacturing and Industrial Operations (including Assembling, Testing, Repair & Maintenance, Cleaning/Washing, Fabrication & Painting, Refining, Processing, Blending, Re-packaging and Re-filling etc.)
Trading Activities & Storage/warehousing Facilities.
General Warehousing & Logistics Activities (including Freight Forwarding/clearing etc.)
It is to be noted that EHS NOC shall be issued to facilities having only office facilities and not carrying out any operational activities and not having facilities for storage/warehousing and machine/equipment etc. and small retail outlets for example mobile phone shop, Tailoring shop and photo studio etc. 
Who Needs to Obtain OFC
All companies operating from plot of land facility or pre-built warehouse units having Industrial, Trading, Commercial or Professional activities or operations which may also involves use of machine/ equipment &/or handling/processing/storage of the materials, waste generation within the areas governed by Jebel Ali Free Zone & Techno Park.
A separate OFC shall be issued for each facility to a company having more than one facility and located at different plot facility or pre-built warehouse unit (i.e. not adjacent and joined with each other), separated by any other facility/property not belongs to them or located across the road.
Wherever an existing company modifies/expand its facilities or adds/amend his activities/ operations in a particular plot/s, an existing OFC for a particular plot/s shall needs to be amended to reflect the modifications/changes/amendment. In the same regard, the OFC procedure as above shall be followed. This is applicable for sub-lessee and addition of any new materials storage also. 
OFC Renewal
Based on the License expiry, the EHS OFC Admin shall automatically initiate the inspection schedule/renewal process for OFC on an annual basis within 60 days prior to expiry of the client License. No advance intimation to the client is given on the inspection visit to their facility. However, this doesn't relieve the client's responsibility to ensure that their OFC is renewed before the OFC/License expiry date. Any delays in renewal of the OFC may affect the renewal process of their License and Customs Import Code. Upon compliance with EHS requirements, the OFC with original approval (date) and current validity shall be issued to the client.