POWER SYSTEM STUDY AND ANALYSIS IN NEW ZEALAND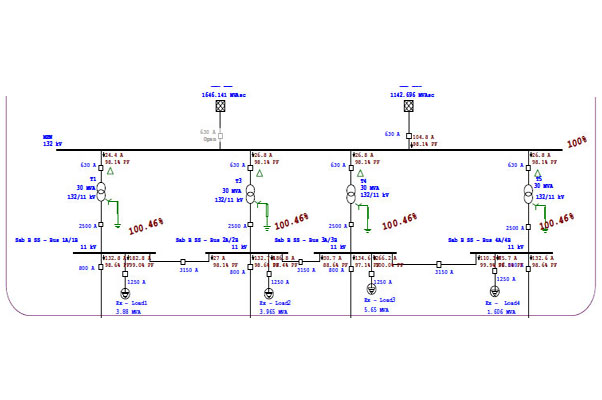 Care Labs offers professional power system study and analysis in New Zealand for companies of different sizes. Our system studies include assessment of customer's electrical network to recommend ways to improve its performance while ensuring safety, reliability, and cost-efficiency. 
Care Labs team of professional engineers offers impartial, highly responsive, and adaptable measures with the focus on optimizing electrical networks to meet targeted performance levels while adhering to all required regulatory standards of New Zealand.
Care Labs power system analysis in New Zealand enables you to:
Model and conduct a power system per phase power analysis.
Analyze and anticipate power system component operation under normal and fault circumstances.
Design and test protective devices under normal and fault circumstances.
Recommend personal safety equipment for those on-site.
Determine the possibilities for the development and extension of the power system.
Power System Analysis Helps To:
Improve network reliabilities.
Reduce electrical risk and enhance safety
Comply with standards and regulations.
Reduce system losses.
Maximize cost savings.
Avoid or reduce financial penalties.
Use of properly rated power system equipment.
A power system analysis consists of numerous engineering analyses which use scientific analytic principles and procedures, each with a different purpose and analysis method.    
Power System Analysis Includes:
Load Flow study & analysis: A load flow study is an assessment of an electrical network to determine how power flows. A load flow analysis is performed to determine if the equipment rating is within the system voltage and, if not, to select the appropriate equipment with the suitable rating. It aids in determining the power system's operating state, active and reactive power generated, losses, voltage, current, and power factor throughout the power system. It also assists in tabulating current and power flow to the equipment to assess whether or not the equipment is overloaded.  
Short Circuit study & analysis: A short circuit analysis assesses all possible operational conditions that the power system may or may not be subjected to. The outcomes of this study help determine if the equipment can withstand short-circuiting current until the fault is cleared.
Relay coordination analysis: Relay coordination is a critical component of power system protection design because coordination methods assure quick, selective, and dependable relay operation to isolate the fault. The coordination study establishes the extent to which overcurrent protective devices are necessary for the power system. It also aids in determining the features, settings, and sizes needed to strike a balance between equipment protection and selective device operation.
Arc Flash hazard study & analysis: Arc flash analysis assesses the dangers associated with the exposure of incident energy emitted as a result of an arc flash and recommends an alternate protective strategy to reduce incident energy exposure. It also assists in the design of suitable protective equipment for people who operate with electrically powered equipment. 
Harmonic analysis: Harmonics have a negative effect on appliances and hinder their performance. Harmonic analysis is an arithmetic approach to predicting potential risks owing to harmonic distortion that is formulated using power system data. Harmonic studies and analysis provide a method for evaluating all potential solutions and their effectiveness under various conditions before implementation.
Dynamic and Transient analysis: Switching and arcing devices in the power system generate transients. Transients deteriorate the contact surface of switches, cause inefficiency in the system, and cause electronic motor drives and control to fail prematurely. This analysis is used to investigate the impact of transients on the power system.
Process of Power System Analysis:
Obtaining the data needed from the power system and its components,
ETAP software is used to model power systems.
Performing the power system assessment
Identifying potential threats and providing respective solutions
Drafting a rough report
Briefing the concerned authorities and draft report submission
Final Report Submission
Care Labs' final report on power system analysis includes the executive summary, observations, and suggestions, as well as full-sized one-line diagrams and drawings inscribed by our Professional Engineer. You will also receive the drawings and report in a digital format.
Our in-depth understanding of power systems, along with years of project delivery expertise, enables us to examine client issues from several perspectives, identify crucial performance issues, and offer optimal solutions.
Care Labs offers its services across New Zealand including Auckland, Wellington, Canterbury, Waikato, Bay of Plenty, and Otago. Book your power system analysis service today or get a quote by contacting us!