Arc Flash Study in New Zealand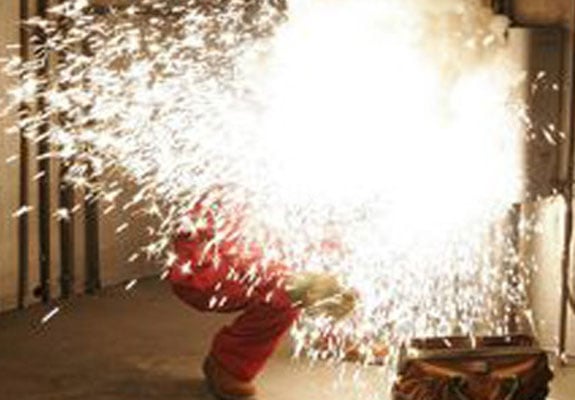 Care Labs provides several services like electrical safety inspections, electrical system design simulations, power quality analysis study, power systems study & analysis for all types electrical installations.
We are offering a comprehensive arc flash study and analysis service to assess, evaluate the potential dangers associate with your electrical installation and safeguard your property & workers. Our team of engineers can assess existing infrastructure, provide hazard management advice and modeling, and manage the refurbishment or upgrade of your existing system.
We are proud to support New Zealand's businesses in meeting the highest electrical safety standards.
Importance of Arc Flash Assessment:
Arc flash is an important personnel safety consideration. It may cause severe damage to properties and cause severe injuries to workers when an arc fault occurs.
The new updated Health and Safety at Work Act – HSWA 2016 requires a PCBU-Person Conducting the Business or Undertaking to protect workers and other people by eliminating or minimizing the risks to health and safety as reasonably practicable as possible.   
An arc flash can pose a significant risk to the health and safety of working personal at work. 
A few years back, the Wellington district court ordered two major utility companies to pay more than $85,000 in fines and compensation after a trainee electrician sustained serious arc flash burns while on the job.
It is a safety issue, results from faults on electric distribution networks. It can impact work practices, safety of workers, relay and other protection settings and practices.
An electric arc is a current-carrying plasma that forms when the air between conductors has been ionized. It is known as an electrical breakdown of the air resistance resulting in an electric arc form between exposed conductors, which can cause substantial damage, fire, injury, or even loss of life. 
Arc flash is a dangerous electric hazard when working on or near electric systems.
Energy Released by the Arc Can Create:
Fire- could spread rapidly through the facility,
Flying debris-often molten metal,
Heat temperature of up to 20,000°C,
Arc fault currents can be up to 20 times the rated supply current,
Incredibly bright more than 2,000 times that of ambient light,
Sound blast can reach up to the noise of 160 dB – loud as a dynamite explosion,
Blast pressure upwards of 2,000 lbs./square feet with potential for serious injury to those in the vicinity.
Actions That Can Initiate an Arc Flash:
Opening/closing, racking a circuit breaker
Working live
Opening or closing a switch, isolator
Dropping tools on electric line
Testing
Faulty equipment
Poor maintenance
Replacing parts
Consequences of Arcing Fault:
Electric shock, burns
Blindness
Hearing loss
Nerve damage
Cardiac arrest
Trauma from arc plasma, radiated heat
Physical trauma due to debris and pressure wave
Respiratory trauma from toxic gases
Arc Flash Study Methodology:
At Care Labs, our arc flash analysis is in reference to the Health and Safety at work Act 2015, AS/NZS 4836:2011, IEEE 1584-2018, and with the EEA Safety in design Guide.
Our arc flash risk assessment methodology includes: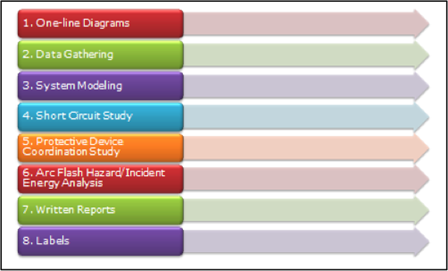 Figure.1: Arc flash assessment
Identifying all locations, equipment for arc flash hazard assessment
Data collection
Preparing a single line diagram of the electric infrastructure
Modeling and analysis performed using ETAP
Short circuit study
Calculating estimated arcing current that significantly contributes to the arc fault
Estimating arcing time from the characteristics of protective devices
Estimating the incident energy of the equipment at the given working spaces
Determining the Hazard Risk Category-HRC for the incident energy
Estimating the protective arc flash boundary for each equipment
Documenting the final draft report
After the completion of the assessment, we will provide you a draft arc flash report for your review.
Based on your approval, we will submit the final report contains an introduction, executive summary, overall single line diagram, observations, and recommendations stamped by a professional engineer.
The final reports and drawings will also be submitted in a digital format.
Installation of appropriate arc flash labels
As engineering professionals, it is our duty to provide appropriate protection against industrial hazards.
Care Labs offers its services across New Zealand including Auckland, Wellington, Canterbury, Waikato, Bay of Plenty, and Otago.  We can take care of all your electrical safety with a complimentary arc flash analysis study on your premises.