POWER QUALITY ANALYSIS IN NEW ZEALAND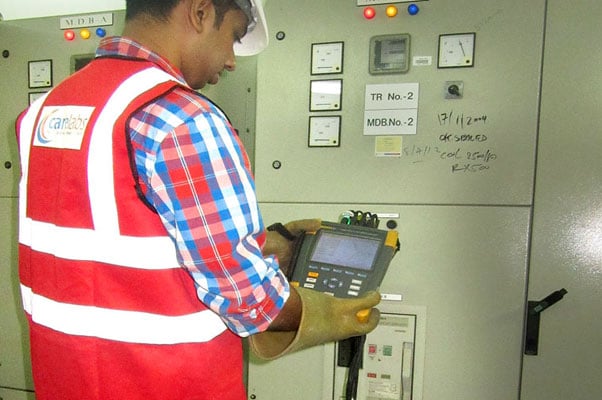 Care Labs offers comprehensive power quality analysis for businesses in New Zealand. We aim to protect your electrical installations, electrical equipment, and appliances from any problems that might arise as a result of power supply fluctuations. 
In today's industries, it has become a major concern to maintain the smooth operation of the equipment and mitigate power quality problems. Maloperation, damage, process interruption, and other such anomalies can all have an impact on equipment and process operations. Such disruptions are expensive and must be resolved to resume operations.  
Professional experts from Care Labs will help you resolve your power quality issues in the areas of equipment installation, control, and protection. Care Labs uses the ETAP – Electrical Transient Analysis Program software to conduct power quality analysis. It is the best software tool for performing calculations and simulations on all electrical system components.  
The service will include collecting comprehensive information about your equipment to assist you in identifying all possible causes of supply variations, the risks posed to the equipment, and the relevant safety measures under the New Zealand Electrical Code of Practice (NZECP) No. 36 and AS/NZS 61000. 
Key Benefits of Power Quality Analysis:
Helps identify the cause and frequency of disturbance occurrence.
Trends and consequences of power quality are recorded.
Minimizes flicker, harmonics, voltage fluctuations, and transient frequency variation.
Ensures that the proper working of equipment.
Establishes the sensitivity of equipment to disruptions.
Assess performance against specifications.
Assist in the maintenance of preventative and predictive systems.
Need for Power Quality Analysis:
The power quality is determined by how well its voltage, frequency, and waveform meet the prescribed rated values. However, several factors influence the power quality, including:
Variation in steady-state voltage
Voltage unbalance
Voltage fluctuations and flicker
Voltage sags/dips
Voltage swells
Frequency deviation
Harmonics
Transients
Telephone Interference
D.C. current injection
Poor power factor
Over and under-voltage
A study of PQ indices in New Zealand has shown several patterns that have emerged over time. New developments will have an effect on voltage efficiency, which will become more pronounced as the number of them grows. The 5th harmonic problem is not as prevalent as it once was, and the 7th harmonic is now the dominant harmonic.
What Does Power Quality Analysis Include?
Inconsistencies between the electrical device and the load are assessed.
Working on simulation approaches to provide power quality solutions by evaluating the work environment.
Assist in the prevention of voltage/frequency spikes and PLC lock-ups.
To predict the performance of load equipment and its efficiency.
Identify harmonics, spikes, transients, and other power quality disturbances.
For this various analysis is employed, few of which are:
Harmonic Analysis
Analysis of Surges and Transients
Analysis of Voltage Dips and Swell
Reactive Power Analysis
Analysis of Captive Power
Load Flow Analysis
Process of Power Quality Analysis:
On-site evaluation
Obtaining power quality measurements
Analysing the measured data to predict and evaluate all probable power quality issues
Recommending measures to minimize/ mitigate power quality issues
Preparation of Draft Report
Review of the draft report by authorities
Preparation of Final Report
The final report offered by Care Labs contains the executive summary, observations, and recommendations along with graphs and drawings (if any) inscribed by our Professional Engineer. The report will also be provided to you in a digital format.
Electrical Safety Standards:
New Zealand's electrical network was introduced to regulations in 1981 to limit harmonic levels. But these regulations only addressed voltage harmonics and telecommunications interference factors (EDV & EDI), with no scope for emissions. These 1981 regulations have now been incorporated into the New Zealand Electrical Code of Practice (NZECP) No. 36.
New Zealand standard AS/NZS 61000 set which are based on IEC 61000 standards. These deviate considerably from NZECP 36 but are not enforceable unless cited.
In 2010, Electricity (Safety) Regulations 2010 was released. Instead of being the only option to comply with NZECP 36 for harmonics, it was made one of many options. Further, Grid connection codes are provided which detail the technical standards consumers must follow for connections to the electricity distribution network.
Monitoring your power quality of your power supply has several benefits, including reduced downtime and utility bill. At Care Labs, we are committed to providing the best possible service to improve the quality and reliability of your electrical installation. 
Care Labs offers its services across New Zealand including Auckland, Wellington, Canterbury, Waikato, Bay of Plenty, and Otago. Book your power quality analysis or get a quote today!