Electrical Installation Condition Report in USA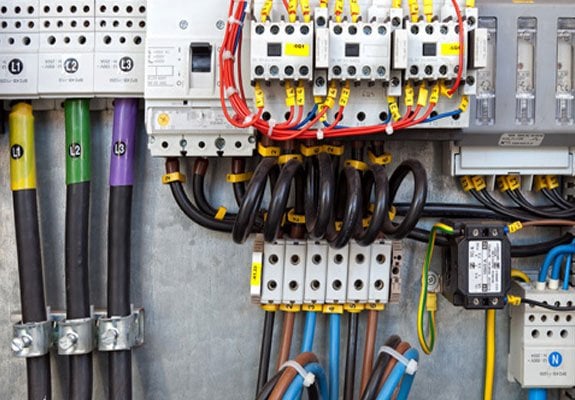 Care Labs provides you services like electrical safety inspections, electrical system design simulations, power systems study & analysis and arc flash study & analysis, by following guidelines of NEC, NFPA, and OSHA std. in the United States.
Care Labs Electrical Installation Condition Report (EICR), provides an assessment of the servicing condition of an electric installation at the time of the inspection, irrespective of the age of the installation.
Need for a periodic electrical installation condition check:
All the electrical installations, electrics, and cables are bound to suffer from wear and tear with age and use. It's a good practice to inspect and test them regularly to ensure they are in good, safe working order. 
Faulty and old wiring, sockets/appliances are the major causes of electrical fires. Identifying the common causes of these electric fires will help to address any issues to prevent fries. 
These electric fires result in roughly 440 fatal and approximately $1.3 billion in direct property damage according to the National Fire Protection Association (NFPA). By the U.S. fire administration department data, over 45,000 electrical fires happen in the U.S. every year.  
All-electric installations must be inspected and assessed periodically. The inspection and testing should be carried out at appropriate intervals to find out, if anything, needs to be done to maintain the installation in a safe and serviceable condition. 
The EICR ensures that the electrics in your facility are safe and okay for use.
Electrical Installation Condition Report by Care Labs will inform you about:
Whether the electrical circuits and cables are in good condition and safe to use
Ensures, they are not susceptible to electric hazards or fires
Any defective electrical work has been installed
Highlight any lack of earthing or bonding
Guarantees the safety of the property
Care Labs provides Electrical Installation Condition Report (EICR) to clients based on a case-to-case procedure as per the site condition based on standards National Electrical Code-NEC (ANSI/NFPA 70), NECA NEIS. It is issued once a full range of testing has been completed.
EICR provides the findings, recommendations of inspection, and test results. Also, it will have photos of the investigated areas with detail of issues of electrical fault.
What is inspected in an Electrical Installation Condition Report (EICR) in the US?
Electrical equipment/cables/apparatus, sockets, switches Are in good working condition.
Any damage, corrosion, wear and tear that might affect the safety of the properties
Electrical circuits or parts of the installation that are overloaded
Test your wiring to check that they're safe
Identifying any exposed live wires
Continuity of the protective conductors
All switchgear- circuit breakers, RCDs, etc. are working properly and are appropriately installed.
Suitability of all electrical switchgear – circuit breakers, residual current devices, etc.
Earthing/grounding of an electrical system is work/repair/maintenance properly.
Potential electric shock risks and fire hazards
Defective electrical work
Identifying any extension cords been loaded excessively
Identifying any damaged electrical fittings and accessories
Misuse of the installation
The adequacy of the earthing or bonding
Identifying any damaged electrical fittings and accessories
Identifying any exposed live wires that could cause a fire or injury
Care Labs services to conduct Electrical Installation Condition Report (EICR):
Electrical audit for risk assessment
Visual & thermography inspection
Electrical safety test
Thermography testing
Short circuit analysis
Relay co-ordination Study
 Load flow analysis
Power quality study
Harmonic analysis
Energy auditing
Arc flash study & analysis
Third-party inspection, testing, analyzing & certification for electrical installation
Portable appliance test
Earthing & grounding tests
Load test for generator, UPS
Many faults, hazards can't be seen simply by looking and are only picked up during periodic inspection and testing. Technicians with the relevant electrical qualifications and competence should perform these standard inspections.
Our team of relevant skilled and competent engineers/ technicians will check the electrical installation and prepare the report accordingly, against the standard/regulation requirements.
To avoid electrical hazards at work most effectively, Care Labs recommends having a periodic Electrical Installation Condition Report (EICR) as described by the regulations and have the work carried out as recommended for the property to remain electrically safe.
Care Labs offer EICR report for various industries including plants, retailers, manufacturers, traders, national and state governments, NGOs, and different other buyers & sellers in the global markets.
Care Labs offer services in all the states of the USA including New York, Pennsylvania, Texas, New Mexico, Michigan, and Florida.
Contact us today to avail of our electrical installation report at your facility.