Power quality has been recognized as one of the major problems in electric supply worldwide.  Studies in various countries have shown that the power quality problems impact consumers and the national economy tremendously. 
Numerous high-profile electrical faults have highlighted the significance of the quality of the electric power delivered to commercial and industrial facilities.   
Care Labs is providing portfolio services for electrical projects such as electrical safety inspections, electrical system design simulations, power systems study, and analysis.  We are offering comprehensive power quality analysis service to all types of electric installations. 
Effects of Quality of the Power:
Power quality problems have been a major concern among engineers & consumers, especially in an industrial environment, where there are many large-scale types of equipment. Thus, it would be useful to investigate and mitigate the power quality issues.  
The quality of the power depends on a various key factors including voltage variations, current, frequency, and most critical feature harmonic content.  
Effects of poor power quality overheating in conductors, transformers, motors, malfunction of sensitive equipment. These are potentially dangerous and have led to an increasing number of facility's electric system failures and fire hazards.  
The quality of the supply power depends on various key features:  
Supply frequency 

 

Supply voltage magnitude 

 

Voltage variations 

 

Severity of flicker 

 

Voltage dips and swells 

 

Short and long voltage interruptions

 

Transient overvoltage 

 

Harmonic and inter harmonic distortion 

 
Power quality issues are generated at the consumer end due to  
Installation:   
Improper grounding, shielding, or undersized distribution 

 
Operation:   
Maloperation of equipment 

 
Maintenance:  
Deteriorated cable insulation or specification grounding connections  

 
At the utility end due to:  
Unpredictable outages 

 

Voltage sags 

 

Power surges

 
The electric system can be susceptible to changes in these power quality features. However, awareness of these issues is now quite widespread, and solutions are available. The main problem is that neither properly controlled nor often assessed power quality performance.  
In addition, there are often unrecognized issues caused by power quality in electric installations.  
Good power quality can ensure efficient and uninterrupted industrial processes.  
Poor Power Quality Can Lead To:  
Unstable equipment operation or failure, and data errors,  

 

Inefficiencies 

 

reduced equipment lifespan,  

 

interruption of supply 

 

plant down-time. 

 

excessive neutral currents overloading conductors  

 

high neutral to earth voltage 

 

overheated transformers and motors  

 

large magnetic fields emanating from transformers  

 

decreased distribution capacity  

 

power factor penalties  

 

capacitor failures. 

 
What is a Power Quality Study & Analysis? 
The power quality analysis study by Care Labs that checks the reliability, efficiency, and safety of your facility's electrical installation.   
Power quality assessment requires identifying any anomalies on an electric system, which adversely affects the normal working state of any electrical/electronic equipment.  
A power quality assessment involves data resource gathering, assessing the data based on standards/regulations of New Zealand, and if issues exist, recommendation of control mitigation techniques must be considered.  
It verifies the following aspects:   
the continuity of the power supply 

 

the power can ensure the efficient operation of the equipment; 

 

the quality of the supply voltage, which means there are no low or high-frequency disturbances in the system capable of damaging the electric components.  

 
At Care Labs, our team of qualified and experienced professionals carries out power quality analysis in adhering to New Zealand Electrical Code of Practice No. 36 – NZECP 36, EEA power quality guide, AS/NZS 61000 set of standards. 
For our power assessment, we use a power quality analyzer, instruments to detect faults & deteriorations, and record parameters & data that may be useful in locating the causes of disturbances.   
The collected data will be studied and analyzed by our engineers, who can then diagnose the problems and suggest the most appropriate solutions.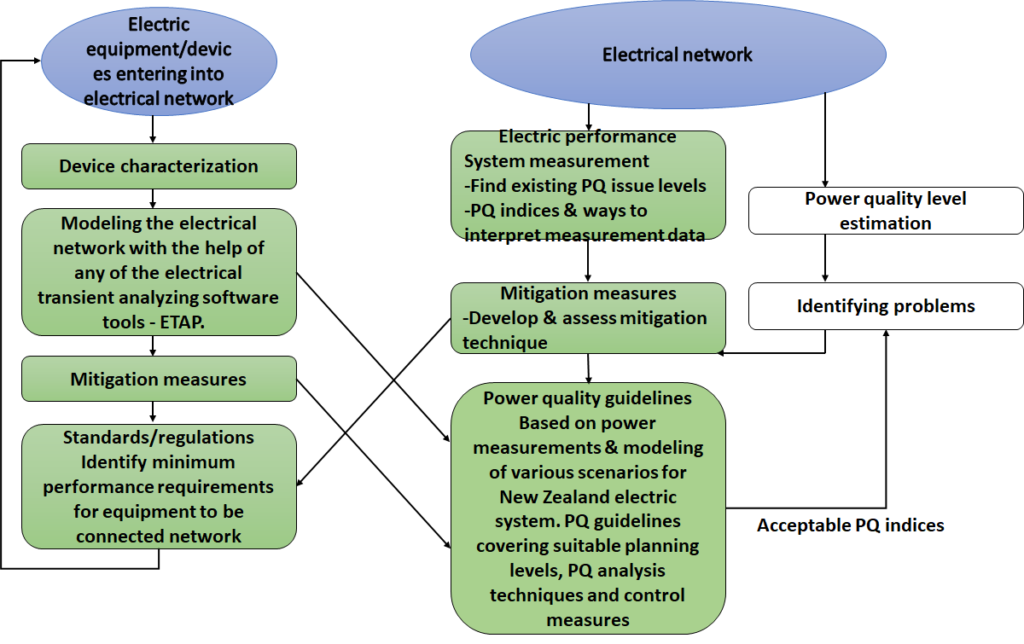 Figure.1: Our power quality study and analysis process flow based on the EEA power quality guide
Our power quality analysis final report provides a complete view of the correct operating state of your electrical system. It is a vital tool for preventive maintenance. It lists all the measures to be taken appropriately when problems are detected before the serious impact on production and the operation of the equipment is felt. 
Ours specialize in evaluating, auditing, and addressing a wide range of power quality issues that can help your reliable plant operations.